Kids And Biz Mom Link Partners
Please click on a category below to view Shopping Sites that we have exchanged links with. Inclusion here does not imply endorsement by KidsAndBizMom.com.
Breast pump Products A site for specialist breastfeeding and expressing products, useful supplies of breastpumps and their accessories as well as baby art and gifts.
Build your own bear kits, purse kits and doll kits - A truly unique hand stuffing experience with a free home biz opportunity, fundraisers, party supplies and more, Come see what all the "stuff" is about and visit today.
Buy For Less - At BuyForLess.com you will find your favorite online stores latest bargains, deals, coupons, rebates and sales. Hundreds of money saving offers are listed here. New bargains are added throughout the day - just about every day. We are not selling anything. We are just sharing the bargains we find online so that everyone can buy for less.
Country Bunny Bath & Body - Feel free to hop around. If you see a product you like, you may place your order on line. Better yet, host a spa show and get it FREE! Click the bunny for more info!
Cuddle Cribs Baby Bedding An adorable yet very affordable array of crib sets and baby blankets including Laura Ashley, Cashmere, Himalayan comforts and more for boys & girls.
Dianna's Perfect Party by Cody One stop for all your party needs.
Discovery Toys Discovery Toys. Educational toys that offer fun and learning.
Educational Toys A world of educational toys, games, crafts and puzzles, to
encourage your child's curiosity, discovery, and creativity.
Educational Toys Including Leap Frog and Baby BumbleBee Educational Toys and DVDs. Free shipping provided with every purchase at Little Smarties Educational Toy Store. Educational Toys for the Little Smarties in your life.
Kids Personalized Music Cd's and Dvd's
We create personalized music cd's and dvd's where the child's name is in the music and lyrics of every song. Our personalized cds and dvd's are great for all occasions from holidays to birthdays, baby showers to sporting events. We have over 2500 names to choose from covering 28 different cd's (including a Spanish Series) each one saying the child's name throughout the entire cd/dvd adding to the thrill and excitement of this special gift. You also have the option of further personalization by adding a message for the child on the label of every cd/dvd. So if you are looking for a "Special Gift" for that "Special Someone" on their "Special Occasion" we've "Got It!" "It's Music That Sing's Your Child's Name!" http://www.kidspersonalizedmusic.net
http://www.kidspersonalizedmusic.net
"It's Music That Sings Your Child's Name!"
Kid's Swimwear - AquaSwimWear features unique clothing and swimwear line for moms, children and teens. We are proud to announce our new online shopping experience!
MommysMall.com - A site designed with busy moms in mind. The goal is to not only provide moms with "one-stop" shopping, but to also provide resources that will benefit them and their families.
PattyCakeFashions.com Adorable original handmade baby and toddler clothing, embellished and embroidered ready-made fashions, vintage baby clothes, handmade blankets, sweaters, booties, name meaning keepsakes and many more children's gifts that will be treasured for years to come.
White Lily Candles Soy and Veggie Wax Candles are hand poured "to order" and available in over 100 scents including top selling scents: monkey farts, snuggles, spring rain, hot summer nights and more!

TrendyTots.Biz is a shopping directory of unique and trendy online boutiques and stores for moms, babies and children.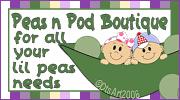 Something To Brag About Personalized and custom made Mother's Bracelets, Children's Bracelets, as keepsakes to be handed down generation after generation for everyone in the family... & Display your precious memories or advertise your business with the Photo "Brag" Bag...